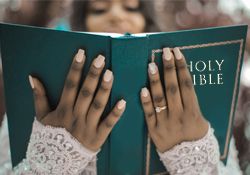 Women play a powerful role in God's story of redemption throughout Scripture. Here are 8 best bible verses and meaning for women.
1) Proverbs 31:30 
"Charm is deceitful, and beauty is vain, but a woman who fears the Lord is to be praised." 
The Good News: No matter what you look like or what worldly riches you have, a woman's commitment to the Lord is what truly matters in life. 
2) Psalm 46:5 
"God is in the midst of her; she shall not be moved; God will help her when morning dawns." 
The Good News: God is with women always, and even in the most difficult of times, He is there to support them and bring them strength for the new day. 
3) Proverbs 31:16-17 
"She considers a field and buys it; with the fruit of her hands she plants a vineyard. She dresses herself with strength and makes her arms strong." 
The Good News: If a woman sets her mind on something, she will get it done — no matter what. 
4) Proverbs 11:16
"A gracious woman gets honor, and violent men get riches." 
The Good News: Any woman who is compassionate in her life will be rewarded in heaven, while those who act in anger will be punished. 
5) Proverbs 31:25 
"Strength and dignity are her clothing, and she laughs at the time to come." 
The Good News: With God enveloping us in love and strength, we have absolutely no reason to fear for the future or life after death. 
6) Proverbs 3:15 
"She is more precious than jewels, and nothing you desire can compare with her." 
The Good News: Women are more valuable than some of the most precious items on earth, so we need to treat them well and care for them, and they will return with love. 
7) Proverbs 31:26 
"She opens her mouth with wisdom, and the teaching of kindness is on her tongue." 
The Good News: Women think before they speak, but when they do, it is with kindness and good deeds. They are the some of the first to spread God's word. 
8) Luke 1:45
"Blessed is she who believed that the Lord would fulfill His promises to her."
Good News: Women are creative and embrace beauty and godliness. A Virtuous Woman is a woman of worth and beauty. She has the inner beauty that only comes from Christ. She uses her creativity and sense of style to create beauty in her life and the lives of her loved ones. Hopefully these bible verses inspire you to be the best you, you can be!