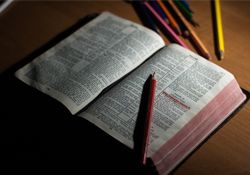 Bible verses to encourage fellow believers and grow in your own faith! Encouragement is vital for spiritual growth! We grow by being encouraged and by encouraging others. 
1) Nahum 1:7 
The LORD is good, a refuge in times of trouble. He cares for those who trust in him. 
The meaning: This verse is poignant because God is a source of strength even in the midst of persecution and difficulty. His goodness is unaffected by our circumstances, and while we may not always feel his blessing directly, we are protected by his grace and strength. 
2) Hosea 2:19 
 "I will betroth you to me forever; I will betroth you in righteousness and justice, in love and compassion." 
This verse reminds us that no matter how far we fall, the God of love pursues us and desires a covenant relationship with us entirely because of his own love, compassion, and fidelity. We can have hope because of God's faithfulness despite our own shortcomings. 
3) 1 Thessalonians 5:11 
Therefore encourage one another and build one another up, just as you are doing. 
This scripture instructs Christians to continue to encourage and pull up fellow Jesus believers. The church in Thessalonica was already doing this, and Paul tells them not to stop, but to continue encouraging one another. 
4) Hebrews 3:13 
But encourage one another daily, as long as it is called "Today," so that none of you may be hardened by sin's deceitfulness. 
Encouragement can be used to combat the deceptive character of sin and the hardening of our hearts toward God. It also reminds us how important it is to receive and provide encouragement on a regular basis! 
5) Psalm 27: 14  
I remain confident of this: I will see the goodness of the Lord in the land of the living. Wait for the Lord; be strong* and take heart and wait for the Lord. 
It takes fortitude and courage to keep anticipating God when He does not appear to be present when we expect Him to. Reminding ourselves of God's goodness keeps us going while we wait. 
6) Philippians 2:3-4 
Do nothing out of selfish ambition or vain conceit. Rather, in humility value others above yourselves, not looking to your own interests but each of you to the interests of the others. 
When we value others we seek to encourage and build them up, rather than tear down through ambition or selfishly thinking too much of ourselves. 
7) Isaiah 41:13
For I am the Lord your God who takes hold* of your right hand and says to you, Do not fear; I will help you. 
God has you firmly in His grip and He's not letting go. You can let go of fear because He is ready and willing to help!