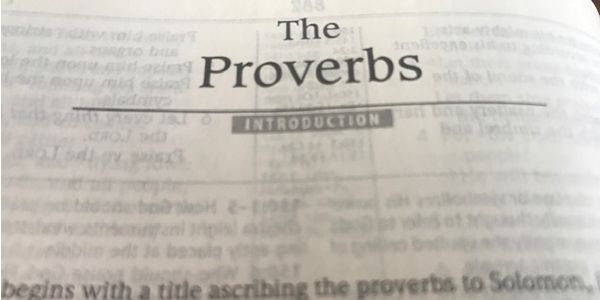 The Proverbs, like the rest of the Bible, are inspired by God. They demonstrate God's compassion, that he cares enough about us to offer us such detailed directions for acquiring and using wisdom. He does not want us to make rash decisions. 
We are told in Proverbs 23:23 to "gain wisdom," and the Proverbs are one of the best venues to observe and learn that wisdom. This book was given to us by God to teach us how to walk in wisdom—that is, how to govern and manage our lives. It assists us in conforming our lives to the character and norms of God. 
Here are five popular bible verses in the book of  Proverbs. 
1) Proverbs 3:5
Trust in the LORD with all your heart and lean not on your own understanding.

When you trust in God with all your heart, it means that you leave no room for doubt. You believe what He says because you know He is always right and will never deceive you. God sees the bigger picture and therefore knows what lies ahead of you and what you don't see. 

2) Proverbs 14:27
The fear of the LORD is a fountain of life, that one may avoid the snares of death. 

Though the fear of the Lord is not very popular, it is very necessary and this verse speaks directly to the importance of fearing God. 
Once we are aware of our dependency upon Him, we become aware of His power and sway over our lives. This cultivates a healthy fear. And that fear is the very starting point of knowledge, wisdom, and understanding (see Proverbs 1:7 and 9:10). 

  
3) Proverbs 18:10 
The name of the LORD is a strong tower; the righteous runs into it and is safe. 

The truth is that God does not always provide answers for why we experience hardships. That does not mean, however, that God does not provide help. Even in the midst of our confusion and lack of understanding, God provides a refuge for us in times of trouble. 

4) Proverbs 16:3
Commit thy works unto the Lord, and thy thoughts shall be established. 

If we completely depend upon God in our work, He will "establish" our plans. That is, He will "bring about" or "cause to happen" our plans. We can expect God to bring our work to fruition in God's way and in God's time when we depend on Him in our efforts. Part of committing our work to God, of course, is seeking and following God's will; when our work aligns with God's will, then success will follow. 

5) Proverbs 17:22
"A joyful heart is good medicine, but a broken spirit dries up the bones." 

God has made us in such a way that joy and humor are meant to be vital parts of our lives. The connection between our emotional health and physical health is undeniable. Those who have a joyful and positive outlook on life are far more likely to have better physical health. 
Wrap Up 

I will leave you with this Bonus Scripture.

Proverbs 1:7
The fear of the LORD is the beginning of knowledge; fools despise wisdom and instruction. 

Being obedient to the word of God can take you a long way in this life. God's instructions have been proven time and time again, even before we were born. The bible is here for a reason; to guide us and instruct us. It's the manual to our lives. The word of God is where we discover our purpose and learn what we should and should not do. The word of God is the source of all truth. 
Hopefully these bible verses inspire you to seek wisdom! Can you think of any great bible verses in Proverbs? Let us know in the comments below.