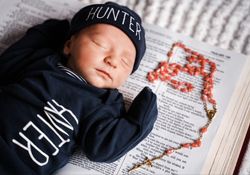 The delight of naming a child is unlike any other. It's a wonderful moment for you and your spouse as you look for the perfect name for your new baby boy. There's something special about giving your child a biblical name. In fact, many pastors say that biblical names can have a positive impact on a child's life. It is said that naming your baby a name from successful people in the bible; spiritually, can set your baby up for greatness in the world. 
The Bible is a popular source for baby boy names. Here is the list of biblical boy names and meanings. 
1. Aaron means teacher.
He was Moses' brother, as well as a prophet and a high priest. (Exodus. 4:14) 
2. Asher: Contentment.
He was one of Jacob's sons, born to Leah's handmaid, Zilpah. (Genesis 30:13) 
3. Darius: wealthy or kingly.
Darius the Mede was the king of Babylon between Belshazzar and Cyrus the Great. (Daniel 5) 
4. Elon: Oak tree.
He was a Zebulunite who served as a judge in Israel for ten years. (Judges 12:11) 
5. John: God has been gracious.
Both the name of John the Baptist and the disciple of Jesus who composed the Book of John. 
6. Jonah means a dove.
Jonah was a prophet who was given the task of preaching to the inhabitants of Nineveh. He refused and attempted to flee aboard a ship, but God punished him by causing the boat to capsize. God, being gracious, made a large fish swallow Jonah to preserve him from drowning. (1 Jonah 1:1) 
7. Levi: Joined or connected.
Jacob and Leah's third son and the founder of the Levites tribe. (Genesis 29:34) 
8. Luke: Light has been delivered.
Luke was a disciple of Jesus and the author of the Acts of the Apostles as well as one of the gospels. He is the patron saint of physicians. 
9. Noah: Repose or rest.
He was the one who built the ark in order to preserve his family and all other creatures from the Great Flood. (Genesis 5:29) 
10. Simon: One who obeys.
He was a leper whom Jesus visited in order to heal him. A woman anointed Jesus at Simon's house. (Matthew 4:18) 
11. Titus: Pleasing.
An early Christian leader and Pauline apostle. (See 2 Corinthians 2:13) 
12. Matthew: Greek Meaning "God's Gift" 
This is a well-known name among both Christians and non-Christians. Every kid is a gift from God, and Matthew is a lovely name to remind us of that. 
13. Nathan: Hebrew for "God Has Given, Reward" 
This is a wonderful name since every child is a gift from God, and you feel as though you've been given the greatest gift in the world.
Wrap Up
What are your favorite biblical boy names from the list? Can you think of any biblical boy names for babies? Let us know in the comments below.