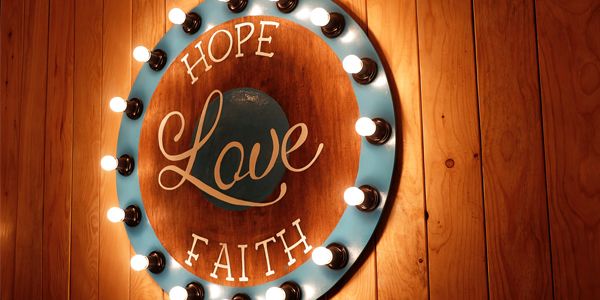 Faith is one of the cornerstones of your personal relationship with your heavenly father. Faith is described as complete trust or confidence in someone or something. Faith can strengthen your relationship with the Lord, but it can also cause it to waver. 
What does the bible say about faith? Meditate on these faith scriptures and let them change your perspective. Remind yourself that your faith is in God, our Heavenly Father who will never leave us or forsake us. Below are 10 popular bible passages about faith. 
1) Hebrews 11:1 
Now faith is the substance of things hoped for, the evidence of things not seen. 
Here the bible gives us the definition of faith. Without faith, it's impossible to please God, being that we can't see God with our natural eyes. We have to have faith that God is real and He is a rewarder of them who diligently seek Him. Even our salvation is based on our level of faith. When we call on the name of Jesus and pray to be saved, we do it by faith. 
2) 1 Timothy 6:12 
Compete in the good fight of faith. Grab hold of eternal life — you were called to it, and you made a good confession of it in the presence of many witnesses. 
Your faith is something that can evolve and grow as you do; don't be afraid to lean into it, to test it, and to look inward in your search for a stronger faith. 
3) Proverbs 3:5-6 
Trust in the Lord with all your heart, and do not lean on your own understanding. In all your ways acknowledge Him, and He will straighten your path. 
If you put your complete trust in the Lord, you will be rewarded. He will set your life straight and lead you down the right path. 
4) Mark 9:23 
And Jesus said to him, "If You can?' All things are possible to him who believes." 
Faith sets no limit on God's ability, for the one who is ready and willing to trust Him in all things. Submit to His will, and not permit mountainous problems or seemingly impossible situations to adversely influence your faith in God's ability. Through faith, one will witness great things in their life. 
5) Matthew 17:20 
"Truly I tell you, if you have faith as small as a mustard seed, you can say to this mountain, 'Move from here to there,' and it will move. Nothing will be impossible for you." 
A lack of faith is simply not trusting God to keep His promises, believing He can do something, or believing that He wants to bless us and direct our lives. A mustard seed kind of faith is faith that isn't meant to stay small, but one that buries itself in the soil of God's Word, takes root, and grows and grows and grows… 
6) John 7:38 
"Whoever believes in me, as Scripture has said, rivers of living water will flow from within them." 
  
Life will reward those who have faith within their hearts. Your beliefs unlock the doors of heaven. Your belief is like your payment for prosperity. 
7) Mark 11:24 
"Therefore I tell you, whatever you ask for in prayer, believe that you have received it, and it will be yours." 
God will grant you what you ask for in prayer once you will believe He will. It may not happen tomorrow or next week, but don't stop believing. God's time is not like our time in the earth. 
8) Hebrews 11:6 
And without faith it is impossible to please God, because anyone who comes to him must believe that he exists and that he rewards those who earnestly seek him. 
Have faith in what is not seen, for God rewards us for our belief in Him. We all have faith in something; whether it's faith in God or faith in other natural things. 
9) Matthew 21:22 
"And whatever you ask in prayer, you will receive, if you have faith" 
If you can erase your doubts and believe in Christ, amazing things can happen for you. Believe that God's word is true, not what the culture say. It's much power when prayer and faith are put together. 
10) Ephesians 2:8-9 
For by grace you have been saved through faith. And this is not your own doing; it is the gift of God, not a result of works, so that no one may boast. 
If you believe in the Lord, he will save you. Believe in His son Jesus Christ and be saved by faith. Our God is graceful and loves us, not because of our works, but because of our belief or faith in Him. 
Wrap Up 
It can be tough to hold onto faith in God when life gets difficult. That's why we've collected together these Bible verses about faith to give you reassurance and comfort. The Bible is full of incredible truths that remind us that we can put our faith in God and trust Him. 
God does not favor certain people but rather favors ones faith. You shouldn't envy other people and their accomplishments or things but rather imitate their faith in God. One of the major differences between us and the famous people in the bible is the level of faith they had in God. If you want to grow or strengthen your faith, the bible is full of stories of how God used people with high levels of faith and belief in Him. 
What are some of your favorite verses in the bible about faith?